A message from our ad partner: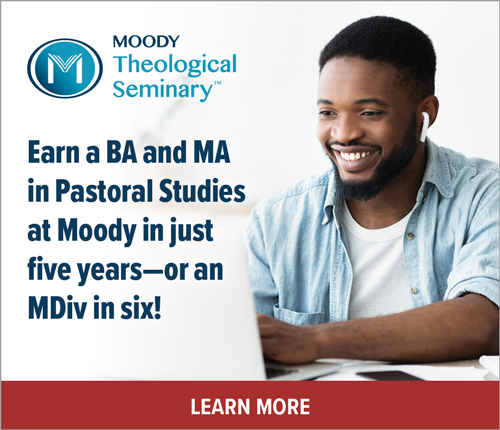 Would you like to serve in church leadership or even a pastorship but lack biblical or pastoral training?
Get Trained to Lead in Ministry
An accelerated Pastoral Studies program can get you prepared for ministry faster than ever. You can earn your bachelor's in Pastoral Studies from Moody Bible Institute and your master's from Moody Theological Seminary in just five years. Or complete a Master of Divinity in Pastoral Studies with just one more year of study. That's three degrees in only six years!
As you earn your BA, you'll gain the biblical and theological foundation necessary for pastoral ministry and learn to preach transformative expository sermons from any genre of Scripture. For your MA and MDiv, you'll study the Bible using literary and structural analysis, grammatical observations, theological exegesis, and the history of interpretation.
Don't worry—the accelerated pace doesn't mean you'll miss out on any important content. You'll still receive the world-class seminary education you can expect from Moody. The program requires you to start taking MA courses in the final semester of your undergraduate degree. Whether you decide to pursue your MA or MDiv, you'll be fully equipped to lead a church or minister on a church staff.
Take the Next Step
Ready to gain the training you need to lead? Contact Moody Theological Seminary today to apply or for more information about our accelerated Pastoral Studies program. Let us train you to make a godly impact on your church, ministry, and those around you.