A message from our ad partner:
Hi RJ,
It's the most wonderful time of the year! Today marks the beginning of Advent, the 25 days leading up to Christmas. Prepare your hearts for Christ's birth like never before by praying every day leading up to Christmas with the cast of The Chosen, the #1 Christian series about the life of Jesus with over 400 million views worldwide, on Hallow, the #1 Christian prayer app in the US.
Download Hallow today and join The Chosen cast in prayer with a limited-time only 3-month free trial!
Join Advent #Pray25 and dive deep into scripture to meditate on the journey to Christ's birth, starting with Adam and Eve, to Moses, David, Ruth, and Mary.
Meditate on the Gospel of Matthew and the beginning of the Gospel of John with the actors who portray Matthew and John the Apostle in The Chosen.
Journey to the nativity through imaginative prayer with the actress who portrays Mary, the mother of Jesus, and Jonathan Roumie, who plays Jesus, as you place yourself in the scene at the nativity.
Discover beautiful, peaceful music, including some incredible new Christmas music from the Sistine Chapel Choir.
Experience peaceful meditations and prayers to reduce stress and anxiety and improve mental health.
Grow closer to God with prayers alongside folks like Mark Wahlberg, Mario Lopez, Christy Carlson Romano, and Jrue Holiday.
Fall asleep to beautiful Sleep meditations and Christmas Bible Stories.
Discover the #1 Christian podcast, The Bible in a Year with Fr. Mike Schmitz.
Build a habit of prayer with daily Gospel readings and reflections.
Hallow is an amazing resource for all Christians looking to grow deeper in their relationship with God. With over 5,000 audio-guided prayers and meditations, Hallow will bring you peace, calm, and joy this Christmas season. It is a busy time of year, but Hallow can help you refocus on the true meaning of Christmas with daily meditations for listening while on the road, wrapping presents, or with family.
Even better, just for Advent, you can get a completely FREE 3-MONTH TRIAL to complete the Advent Prayer Challenge and start your new year off with a habit of prayer. With this, you'll unlock the entire Hallow app and check out everything it has to offer!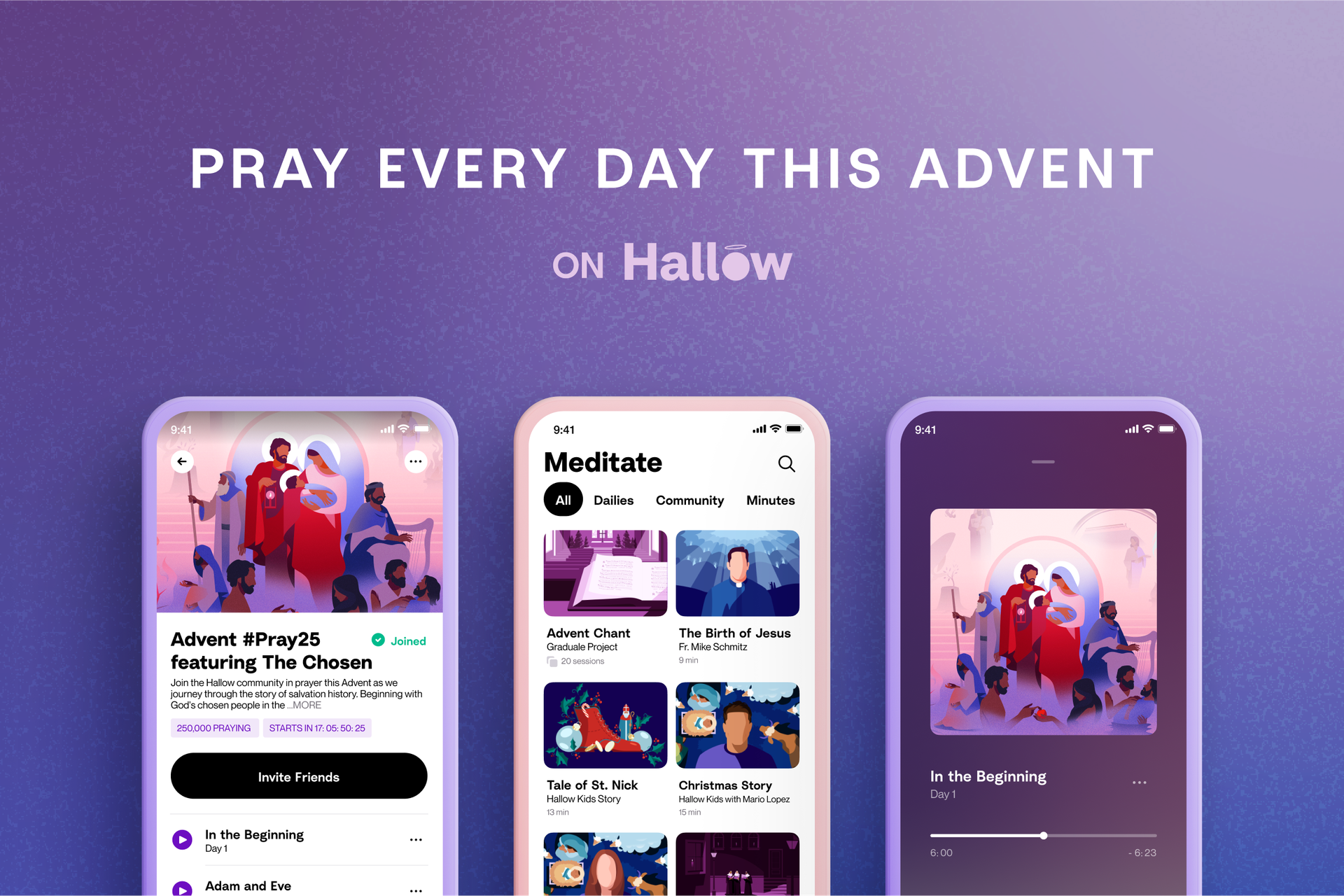 Check out what others have said about praying with Hallow during the Christmas season:
"I wanted to wish everyone at Hallow the most wonderful of Christmas Blessings, Joy, and Peace. But equally important is to say THANK YOU for the wonderful Advent Challenge. It provided me with the best Advent I have ever had."
"This Advent prayer challenge has touched my heart and brought tears to my eyes. Thank you for truly bringing me closer to Christ this Christmas"
"This Advent season continues to inspire and remind me the beauty and power of prayer. Thanks to the Hallow app for helping me keep with the prayer routine."
Hallow is a perfect companion for your Christmas season. Download Hallow today and join the Advent #Pray25 Challenge featuring The Chosen. God bless and Merry Christmas!