A message from our ad partner: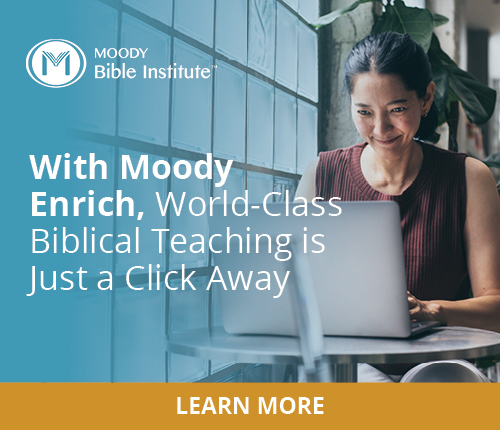 It's a new year—that means new possibilities. Perhaps now's the time to enhance your Bible knowledge, focus on your personal well-being, or further develop your professional skills to advance your career.
With Moody Enrich, our new online learning venue, you can do all three! With just a few mouse clicks, you could be getting the training you need for a deeper walk with Christ, a more rewarding career, and a better life!
Choose from more than 30 dynamic and informative courses, including:
Survey of the Old Testament

Survey of the New Testament

The Five Love Languages (with Dr. Gary Chapman)

One Life Well Lived (with Dr. John Perkins)

Basic Christian Doctrine

And many more!
All our online classes are taught by the nation's top Christian professors—at a fraction of the cost of attending Bible college. What's more, you can study at your own pace, when and where it's best for you!
Courses start at just $14.99, and right now your first course is 30 percent off!
Sign up to receive your promo code for 30 percent off!
Start the year off right with Moody Enrich!
View this email in your browser