A message from our ad partner:
Hi there,
When it comes to abandoned boys, they don't know that they are loved. They don't know that the Heavenly Father has a plan and a purpose for their lives.
But today, you can help change that.
Hi, my name is John Smithbaker, and since 2012 I've had the privilege of leading a national organization called Fathers in the Field.
Our mission is to "defend the cause of the fatherless" (Is. 1:17) by encouraging the church and men to make a stand for boys without fathers in their community. And our heart is to rekindle and establish the spirit of boys who have been abandoned by their fathers by:
pairing them with godly men in the local church who will mentor them one-on-one in life skills through outdoor activities
sharing a Christian understanding of our Heavenly Father's love and sacrifice for His children
Today, I want to invite you to "roll up your sleeves" and give a Bible and what we call a "Journey Gift" for a boy, or Field Buddy, in our ministry.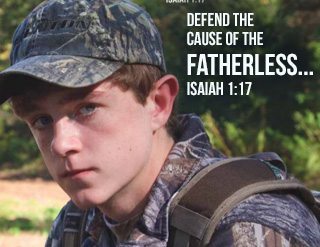 Journey Gifts are physical items that let our Field Buddies know that someone is looking out for them and that someone cares.
Whether it's a backpack, pair of binoculars, or pair of boots, each Journey Gift you provide is something a Field Buddy needs to go on an outdoor adventure with their Mentor Father.
And, not only does the Journey Gift you provide help prepare a boy for his next outdoor adventure, it's a reminder that someone is looking out for them — something a fatherless boy might never have felt before.
Today, you have the chance to share a Journey Gift and a Bible with a fatherless boy. You can let them know that someone on earth cares about them and that the Heavenly Father loves His children.
Get in the field and help defend the cause of the fatherless!
In Him,
John Smithbaker
Founder, Fathers in the Field