A message from our ad partner:

If your family is like a lot of families these days, you probably struggle to find meaningful time together.
We know it can sometimes feel like screens and other distractions have taken over our lives!

This is why we'd love to put a special resource in your hands.
It's a collection of dinner prayers called 10 Dinner Prayers for Before Meals, and we invite you to download your free copy today.
What's great about 10 Dinner Prayers Before Meals is that you get 10 different prayers you can pray before mealtimes to make that time with your family even more meaningful.
There are prayers about work and remembering the hungry, and there's a prayer of remembrance of the Lord's Supper. There's even a prayer you can use in the drive-thru!
10 Dinner Prayers for Before Meals is an easy way to better connect with God, and your family, and make your mealtimes more meaningful.
Please download your copy today. And accept it as a gift from our family to yours.
God bless you,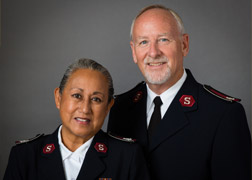 Lt. Colonels John & Lani Chamness
Divisional Leaders
The Salvation Army

The Salvation Army Mission Statement
The Salvation Army, an international movement, is an evangelical part of the universal Christian Church. Its message is based on the Bible. Its ministry is motivated by the love of God. Its mission is to preach the gospel of Jesus Christ and to meet human needs in His name without discrimination.
View this email in your browser