A message from our ad partner:
Take Your Life Back! FREE 7-day devotional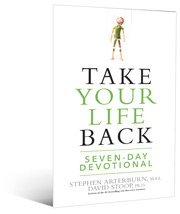 This FREE 7-day devotional from New Life Ministries provides practical, biblical ways to stop letting the past and other people control you.
Taking your life back is a day-by-day process, and it helps to get some encouragement and reinforcement along the way. We're happy to join you on this journey and offer some hope and some practical ideas along the way. We pray this resource helps you take meaningful steps to take your life back.
This 7-Day devotional will give you biblical hope and help on these key topics:
Balancing your caring
Quarrelsome people
Reactive living
Moving past fear-based obligation
Recognizing when you've reached your limits
With God's help, you can take your life back. You can experience healing for your pain and recovery from an unhealthy reactive lifestyle. We pray that God will greatly bless you, and may you experience His presence as you read the daily devotions and begin to experience the life you were born to live.
Provided by New Life Ministries, our mission is combining a deep commitment to biblical truth with the best in psychological knowledge. We offer compassionate and empowering solutions to those who find themselves in life's difficult places and who are missing what God desires for their lives.
View this email in your browser
Read about Salem Web Network | Subscription Preferences | Unsubscribe


---
© 2022 Salem Web Network. All rights reserved.

111 Virginia Street, Suite 200, Richmond, VA 23219

.

This email is never sent unsolicited. You are receiving this email because your email address,

peter.hovis@gmail.com

, is signed up to receive newsletters, updates, and special offers from CrossCards.