A message from our ad partner:
Today kicks off Lent, the 40 days leading up to Easter, as we prepare for the crucifixion and resurrection of Jesus Christ. Choose to make this Lent and Easter season your most transformative yet by joining Hallow's 40-day prayer challenge, Pray40!
Download Hallow, the #1 Christian prayer app, and join Pray40, the largest digital prayer event in the world, with hundreds of thousands of Christians praying together every day leading up to Easter. And this Lent, exclusively on Hallow, you'll be led in prayer by world-famous Christians, including actors Mark Wahlberg, Jonathan Roumie from The Chosen, and Jim Caviezel from The Passion of the Christ, host of the Bible In a Year podcast Fr. Mike Schmitz, and Rwandan genocide survivor Immaculée Ilibagiza! Draw closer to Jesus than you ever have before through 40 days of prayer on Hallow.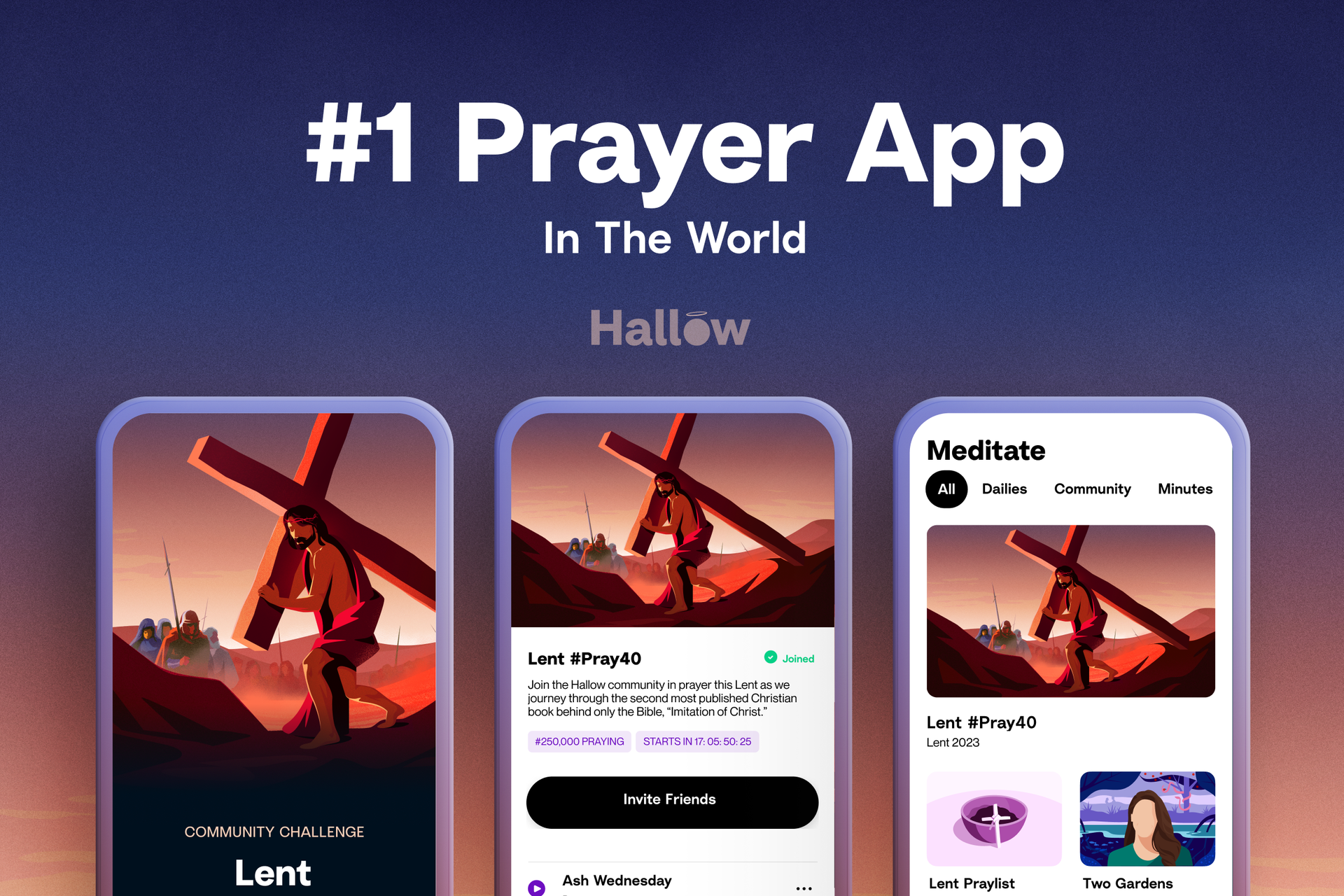 Join Pray40 with millions of Christians around the world and:
Learn to imitate Christ in your daily life through meditation on the 2nd most published and read Christian book behind only the Bible, the Imitation of Christ led by Jonathan Roumie from The Chosen and Jim Caviezel from The Passion of the Christ
Develop greater discipline through daily prayer and fasting on Fridays with motivation from Mark Wahlberg
Draw near to His Word through weekly Gospel reflections with Fr. Mike Schmitz, host of the #1 Christian podcast, Bible In A Year
Grow in humility through silent and devotional prayer with Immaculée Ilibagizato respond more fully to His call to imitate Him
Spend forty days alongside Jesus following His Way, carrying your cross, and trusting in His mercy and love
Meditate on the Stations of the Cross to prepare your heart for Holy Week and Easter
Follow me, "I am the way, the truth, and the life" (John 14:6). Without the way there is no going; without the truth, there is no knowing; and without the life, there is no living. - Imitation of Christ
Together, we'll surrender our own desires and draw near to Jesus through prayer, fasting, and giving for forty days. Download Hallow today and redeem your limited-time 30-day free trial!
Hallow is the #1 Christian prayer app in the world and is an amazing resource for all Christians looking to grow deeper in their relationship with God. With over 10,000 audio-guided prayers and meditations, Hallow will help you grow closer than ever to Jesus during the days leading up to Easter. For Lent, you can get a completely free 30-day trial to join the Pray40 community prayer challenge and prepare your heart for Easter. With this special trial, you'll unlock the entire Hallow app and check out everything it has to offer!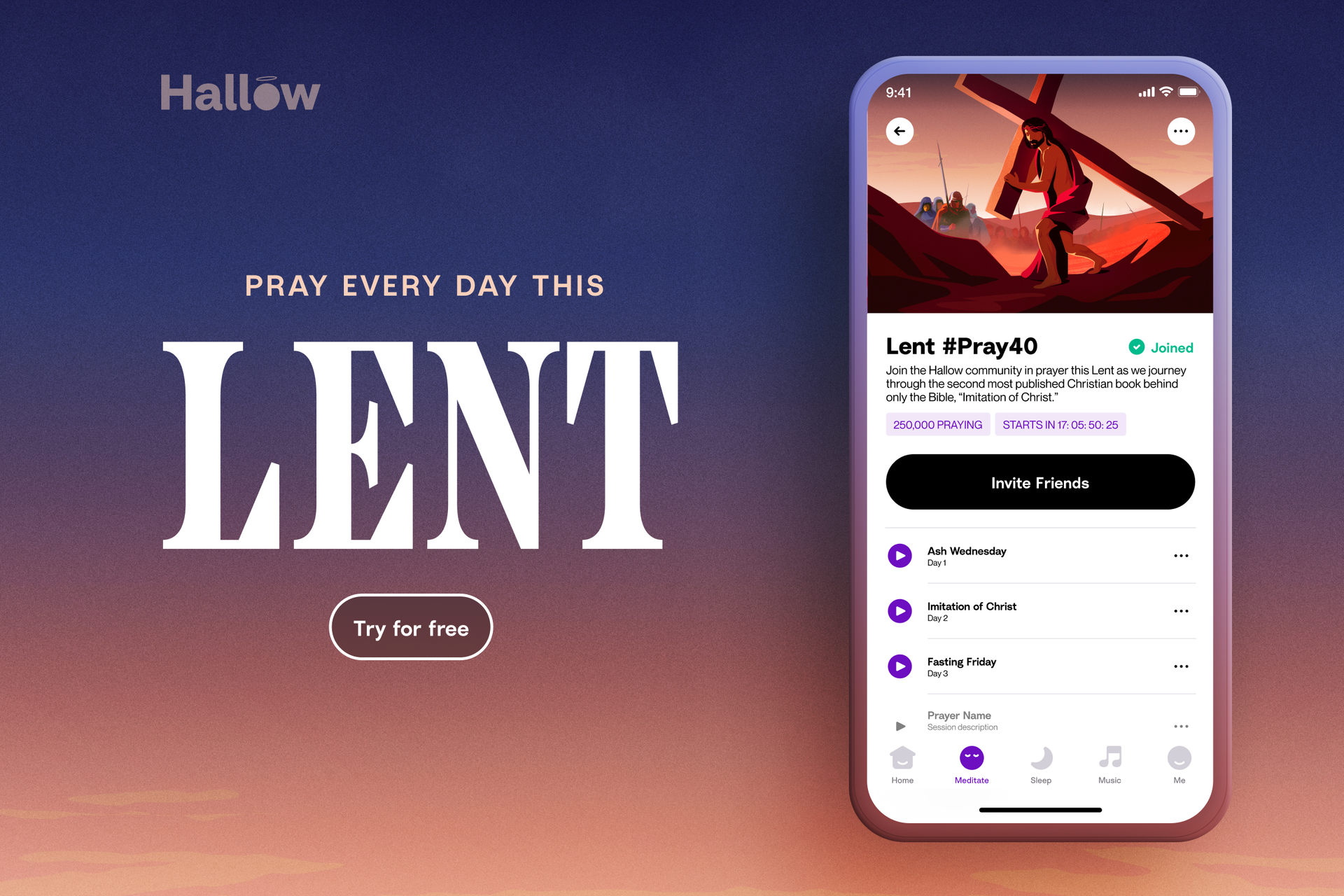 "Thank you for the Pray40 experience this Lent. I cried hearing the words of God and this experience made me and my husband feel like Jesus is with us even when we can't feel him."
"I have never felt closer to God than I did today listening along this Lent"
"Hallow (through God) has changed my life. I was on the brink of depression and then I discovered your app. I'm a different person. It's such a beautiful feeling to feel happy, whole, abundant… free from chains of addiction, anger, resentment, sadness… I can't even describe it!"