A message from our ad partner:
My beautiful wife Jean and I have been married for over 30 years. And if there's one thing I've learned as a husband, it's that asking good questions with good motives can be a very good thing for a relationship.
This is why I want to put a powerful tool in your hands. It's an eBook called Nine Questions To Ask Your Spouse To Strengthen Your Marriage, and you can download your free copy today!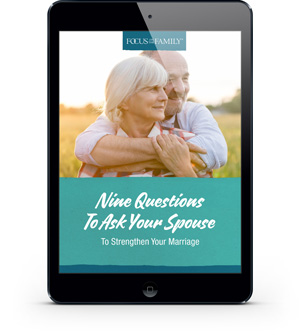 You might've never thought about it, but Jesus was a master questioner. In fact, the Gospels record 307 questions that Jesus asked people.
As the author of Nine Questions To Ask Your Spouse shares, "Those questions were intentionally designed to affect people at the heart level. If [Jesus] had only told people what to do, they would just be getting more teaching. But by asking precise and appropriate questions, He allowed them to discover the answers they needed."
As you learn to become more of a master questioner like Jesus was, I'm confident your relationship with your spouse will deepen and grow as your trust, understanding, and compassion increases.
So be sure to download your free Nine Questions To Ask Your Spouse eBook today.
The right questions asked in the right way can be so good for your marriage.
I know Nine Questions To Ask Your Spouse will help you discover what those questions are—and how to ask them in a way that blesses your marriage now, and for years to come!
Sincerely,
Jim Daly
President
Focus on the Family