A message from our ad partner: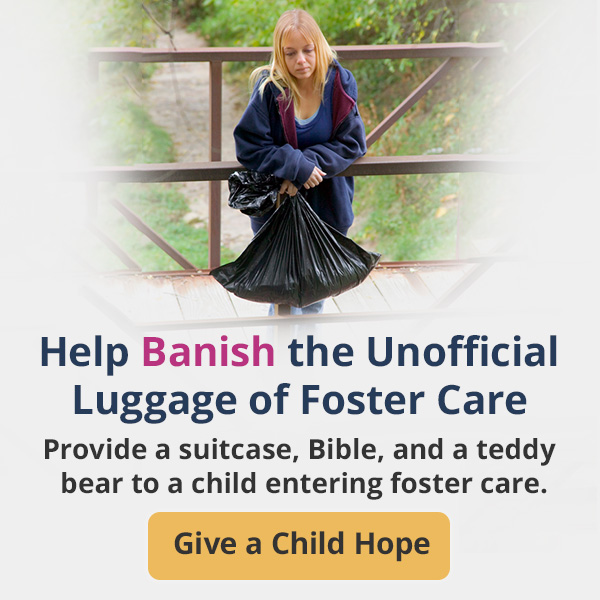 Friend, maybe you know my story … how I was nine years old when my mother died. And how, when my siblings and I came home from the funeral, our stepfather had sold everything and left.
We spent the night on the floor, covering ourselves up in clothes from the few boxes he left behind with our things. The next day I was off to foster care. I'll never forget the fear and uncertainty.
That is why my heart still goes out to children placed in foster care today. They leave the only home they've known with their few belongings hastily thrown into a trash bag. I'm writing to ask if you will comfort a frightened boy or girl today and help give them a better future?
It starts when you support our Wait No More foster care and adoption program. You can help connect families with resources and organizations to help facilitate foster care and adoption. And when you give today, you'll directly impact a child!
Your single gift of $100 today will provide a child waiting in foster care a CARE PACKAGE with a suitcase, teddy bear, and NIrV®Adventures in Odyssey Bible. If you commit to a monthly gift of any amount as a Friends of Focus on the Family member, every $100 you send provides another CARE PACKAGE.
I can't express how much a CARE PACKAGE like this would have meant to me as I struggled to find my way.
A CARE PACKAGE offers dignity, comfort, and hope to a child who is uprooted from the only life they've ever known.
Natalie is a foster parent in Kentucky. She says,
"The importance of suitcases for children in foster care is so when they do have to leave, they get to leave with something that is theirs and not just a plastic bag that's going to be thrown away. I think it's important for kids, even when they go through a hard transition, to have a sense of dignity and a sense of, 'I have something to put my stuff in.'"
Give $100 or more today to provide a child a CARE PACKAGE. Your gift will encourage children and families in foster care. Here's a link where you can make your gift.
Thank you for letting children who are hurting know that they matter.
Jim Daly
President
Focus on the Family
View this email in your browser